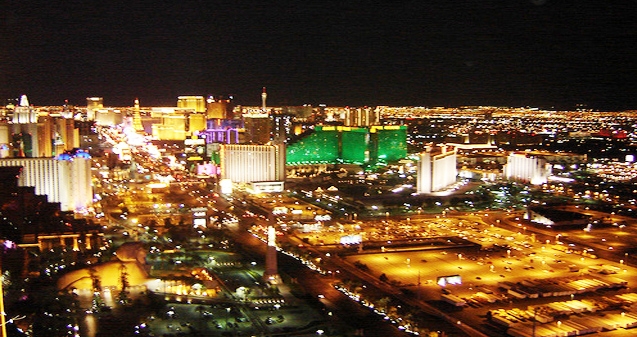 Shimmering from the desert haze of Nevada like a latter-day El Dorado, Las Vegas is the most dynamic, spectacular city on earth. At the start of the twentieth century, it didn't even exist; now it's home to two million people, and boasts nineteen of the world's twenty-five largest hotels, whose flamboyant, no-expense-spared casinos lure in thirty-seven million tourists each year.
Las Vegas has been stockpiling superlatives since the 1950s, but never rests on its laurels for a moment. Many first-time visitors expect the city to be kitsch, but the casino owners are far too canny to be sentimental. Yes, there are a few Elvis impersonators around, but what characterizes the city far more is its endless quest for novelty. Long before they lose their sparkle, yesterday's showpieces are blasted into rubble, to make way for ever more extravagant replacements. A few years ago, when the fashion was for fantasy, Arthurian castles and Egyptian pyramids mushroomed along the legendary Strip; next came a craze for constructing entire replica cities, like New York, Paris, Monte Carlo, and Venice; and the current trend is for high-end properties that attempt to straddle the line between screaming ostentation and "elegant" sophistication.
While the city has cleaned up its act since the early days of Mob domination, it certainly hasn't become a family destination. Neither is Vegas as cheap as it used to be. It's still possible to find good, inexpensive rooms, and the all-you-care-to-eat buffets offer great value, but the casino owners have finally discovered that high-rollers happy to lose hundreds of dollars per night don't mind paying premium prices to eat at top-quality restaurants, while the latest developments are charging room rates of more like $300 than $30 per night.
Although Las Vegas is an unmissable destination, it's one that palls for most visitors after a couple of (hectic) days. If you've come solely to gamble, there's not much to say beyond the fact that all the casinos are free, and open 24 hours per day, with acres of floor space packed with ways to lose money: million-dollar slots, video poker, blackjack, craps, roulette wheels, and much, much more.
Source : Yahoo!Travel