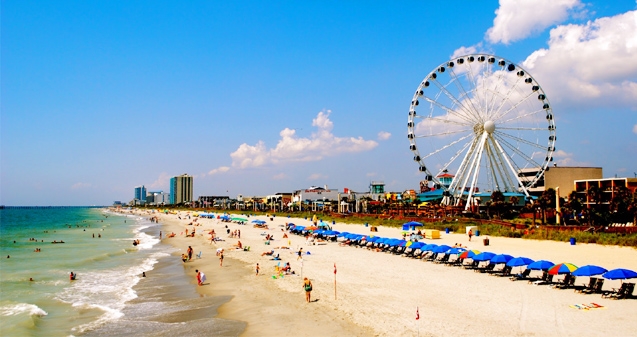 Myrtle Beach is considered the number one golf destination in the United States, but those who have visited the 'Grand Strand' know that is also a premier vacation destination. With its beautiful beaches and countless attractions, everyone can find something to keep them occupied.
Myrtle Beach's Grand Strand consists of a string of small communities that stretches from Little River on the North Carolina border to Georgetown. Its 60 miles of coastline have wide, sandy beaches for swimming, sunbathing and building sand castles; waters full of fish for pier or deep sea fishing and waves for surfing. For the fishing and boating enthusiast, the Intercoastal Waterway meanders through Myrtle Beach and offers even more opportunities for a day on the water. Little River
What better way to be introduced to Myrtle Beach than through Little River. As you enter South Carolina from North Carolina, this small village greets you with bright skies, beautiful flowers that bloom all year, sparkling ocean and majestic oak trees. Shops, restaurants, golf courses and retirement communities have sprung up in the last ten years, but Little River has managed to maintain a less hectic pace than the rest of Myrtle Beach.
Little River's biggest event is the annual Blue Crab Festival. Held in May on the weekend after Mother's Day, many visitors return for the fresh crab and other seafood, a juried art show, arts and crafts of all descriptions, face painting for the children, boat rides, and live entertainment. North Myrtle Beach
North Myrtle Beach consists of the four communities of Cherry Grove, Ocean Drive, Crescent Beach and Windy Hill where Barefoot Landing has become a popular shopping, eating, and entertainment spot.
Crossing the expansive bridge over the Intercoastal Waterway from Little River to North Myrtle Beach is an experience in itself. Steal a quick view of the houses, boats, marinas and bridges for miles in either direction — if you're not driving, that is.
In Cherry Grove, you'll find one of the most popular destinations of both residents and visitors alike, the Cherry Grove Fishing Pier . The pier extends 985 feet into the ocean and has a 2-tier viewing deck with a dynamic view of North Myrtle Beach. The pier attracts the casual and 'serious' angler, and residents and visitors alike.
The other three communities in North Myrtle Beach are not as large or as developed as Cherry Grove, but they also have beautiful beaches and plenty of accommodations. North Myrtle Beach's population has mushroomed since 1990; consequently, so have the development and the traffic. From late April through early September, allow plenty of time to get down Route 17, the main thoroughfare from Little River all the way to Charlestown.
Beach and Boogie Music is king at the Beach Clubs like Fat Harold's Beach Club in Ocean Drive. This thumping, rhythmic music will have you dancing in your seat, if you're not up doing the "Shag," the official dance of South Carolina. Notoriously described as "the jitterbug on Valium," the Shag is fun to watch and even more fun to try. Myrtle Beach, the City
Once you visit Myrtle Beach and see the overwhelming number of hotels, motels, condominiums, restaurants and attractions, you will find it hard to believe that most of the development took place since the late 1950s. Getting to Myrtle Beach is easy thanks to the modern and efficient Myrtle Beach Airport. Once you get there, though, finding your way around can be tricky until you get the hang of the system used to number the roads. The roads are very crowded, but the city managers are dealing with the congestion by adding new roads. Veteran's Highway (Route 22) helps you avoid a large part of Route 17. Route 501, the other main highway, swings off of Route 17 to the west and leads to many of the popular golf courses.
Myrtle Beach has its own baseball team, the Pelicans , a Class A affiliate of the Atlanta Braves. The games are held at BB&T Coastal Field, a relatively small stadium from which you can clearly see all the action on the field. Silly games and contests held in between innings and Splash, the mascot, make going to the games a fun time for all ages.
Myrtle Beach has just about any kind of entertainment you can think of, such as The Carolina Opry, Dolly Parton's Dixie Stampede , Medieval Times Dinner & Tournament , IMAX Discovery Theatre , Planet Hollywood , Hard Rock Cafe , Ripley's Aquarium , water parks, nightclubs and shopping galore. There are also many annual festivals that bring visitors back year after year. As they say, "If you're bored in Myrtle Beach, it's your own fault."
The Southern Grand Strand
This southern part of the Grand Strand moves at a more leisurely pace than its northern counterpart, but is equally diverse.
Surfside Beach is directly below Myrtle Beach; consequently, some of the congestion is spilling over to this community. It is being forced to build new municipal buildings as its population swells. Like its neighbor to the south, Garden City, it is fighting to maintain its pristine beaches by not allowing high rise condominiums and hotels. Garden City is still more residential than commercial. It is a popular spot for surf fishing and family outings to the beach.
The residents of the small fishing village of Murrells Inlet preserve its heritage by continuing to fish in its many creeks and waterways. If you want fresh seafood, be sure to visit this self-proclaimed Seafood Capital of South Carolina. It is also the home of the lovely, serene Brookgreen Gardens . With over 6000 acres of sculpture and botanical gardens, it is a must see.
To get to Georgetown, continue traveling down Route 17 through Litchfield Beach and Pawley's Island. It has a relatively small population and is a well-kept secret, so it's a pleasure to leisurely walk the historic streets past the antebellum buildings.