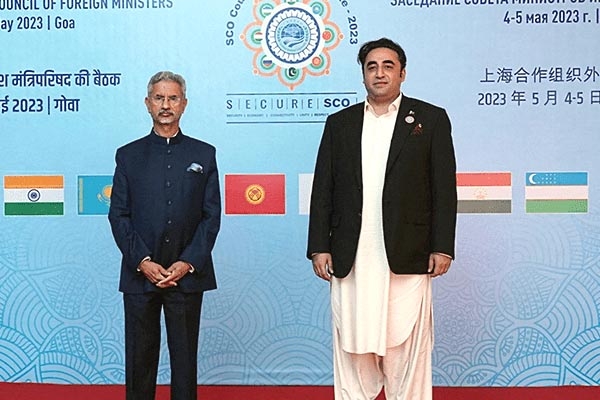 (Image source from: Twitter.com/MaleehaManzoor)
Pakistani Foreign Minister Bilawal Bhutto Zardari visited Goa on Thursday. He is the first Pakistani minister to visit India after 12 years for an SCO meet. External Affairs Minister S Jai Shankar welcomed the Pakistani minister for the meeting of the CFM of the Shanghai Cooperation Organisation (SCO). Both the ministers had a crucial meeting in Goa and posed for photos.
#WATCH | EAM Dr S Jaishankar welcomes Pakistan's Foreign Minister Bilawal Bhutto Zardari for the Meeting of the SCO Council of Foreign Ministers in Goa pic.twitter.com/TVe0gzml1U

— ANI (@ANI) May 5, 2023
JaiShankar also welcomed SCO general secretary Zhang Ming and ministers of Russia, Kazakhstan, Uzbekistan, Kyrgyzstan and Tajikistan for the Council of Foreign Ministers (CFO) meeting in Goa. Bilawal Bhutto Zardari called his India visit a success, while there is no official confirmation from the Indian side, according to PTI.
FM @BBhuttoZardari among SCO Foreign Ministers participating in Council of Foreign Ministers in Goa.#PakFMatSCO

pic.twitter.com/64npTyMFsB

— Spokesperson MoFA (@ForeignOfficePk) May 5, 2023
JP Singh, joint commissioner of the Pakistan-Afghanistan-Iran division has welcomed the Pakistani foreign minister in Goa. Zardari tweeted, "Salaam, from Goa India, Assalamualaikum, we have reached Goa for the Shanghai cooperation organization meet." He also attended the dinner hosted for all the foreign ministers.
Salaam, from Goa India. #PakatSCO pic.twitter.com/ZwBqqASHS7

— BilawalBhuttoZardari (@BBhuttoZardari) May 4, 2023