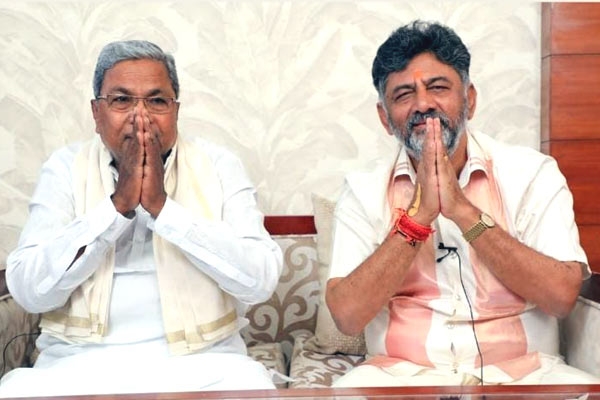 (Image source from: Twitter.com/INCIndia)
After prolonged suspense of five days, Siddaramaiah as Chief Minister of Karnataka and DK Shiva Kumar the deputy chief minister of Karnataka are appointed by the Congress party. They will have a grand mega event of a swearing-in ceremony on the 20th of May. The mega political challenge was handled by Mallikarjuna Kharge after Congress attained 135 assembly seats on May 13th. West Bengal chief minister Mamta Banerjee, Ashok Gehlot from Rajasthan, Bhupesh Baghel from Chhattisgarh, Bihar CM Nitish Kumar, Sukhvinder Singh Sukhu from Himachal Pradesh, Tamil Nadu chief minister MK Stalin, N Rangaswamy from Puducherry and Jharkhand's Hemant Soren, all eight states chief ministers will grace this grand event.
The politics of the Lingayat and Dalit communities played a key role in making Siddaramaiah as CM and DKS as Dy CM. Shivakumar will also continue as the Karnataka Congress party chief till the Lok Sabha elections are over and he got assurance from Sonia Gandhi that his loyalty to the party will never be forgotten. Both the leaders scheduled a meeting for today to discuss their interested names of MLAs to be inducted into the government. DKS and Siddaramaiah will also meet the governor claiming to form the government.
On another side, former chief minister Basavaraj Bommai said that BJP is going to hold a meeting and will decide their opposition leader's name.