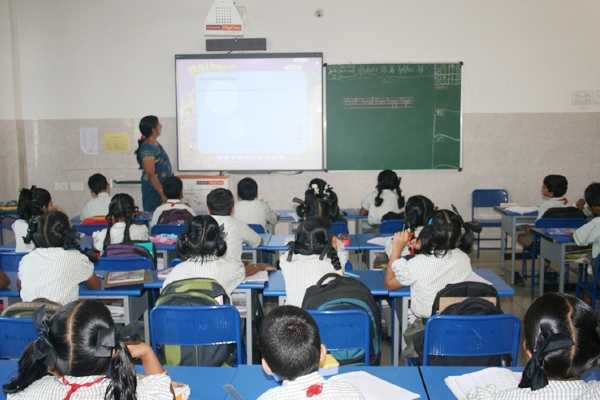 (Image source from: Classroom teaching transforms into digital teaching!})
It is high time to come out of the orthodox box containing methods of black board class room teaching. It is time for this generation of teachers to go hand in hand with technology, parents to introduce their children to new methods of teaching aligned with the technology, and children to explore the world using technology.
Yes..! We are talking about digital classrooms. It is all in the minds of teachers and the way they take their role as a teacher using technology for their teachings and the extent to which they explore technology to give the best to their students. Many educationalists believe that they are blessed and lucky to be in very interesting times, which offer the opportunity to radically change and improve the way of education.
The main interesting aspect of digital classrooms is that the ideas sprout from a series of sources, not a single book. Here are few key aspects of digital classrooms.
Cutting off paper
Best part of digital class rooms are cutting down paper and saving the environment. The use of technology will make written work available anywhere anytime. Assignments can be submitted even before class begins. Copies can be shared and retained by both students as well as teachers.
Projector allows more instructional time
As usually projectors are used to display the written notes, the teacher is left with more instructional time. No notes are to be written during the class room. Digital classrooms pave way for the modeling of digital note-taking.

Digital ethics
The most important factor here to maintain digital ethics as digital tools even have another side of it like disrespect, dishonesty, defiant, and/or deviant behavior. It is the duty of the teacher to cite all the sources properly, hold accountability to students for being respectful, enforce after effects for transgressions of rules.
Student-centered approach
More student-centered approach is possible with digital class rooms. Digital will be able to supervise students sing computers. A repertoire of strategies could be used for classroom management. Students get one-to-one technology as a powerful tool to use for more student-centered approach best suited for the curriculum.
Wider audience
Paper-based classroom is restricted as student's project is submitted to teacher who returns back. It is pinned down and never come up again. That is not the case in digital class rooms, where students can put their work on blogs, podcasts, or PhotoStories online, drawing wider range of audience.
Thus, by taking a leap towards digital class rooms would open doors for shared productivity and professional practice.  Digital resources and digital tools would allow both teachers and students to use technology for many purposes like research, texts, and multimedia. This allows greater approach to learning and information!
- Sumana