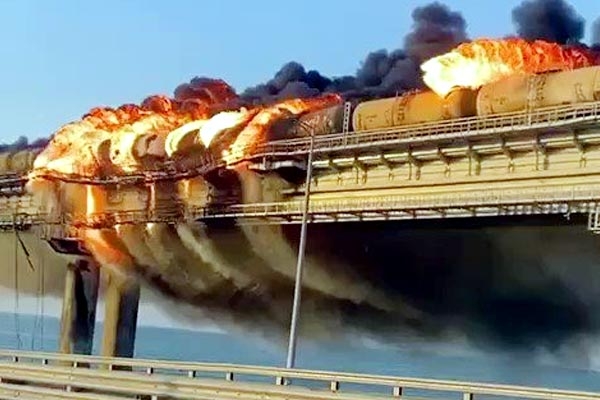 (Image source from: Twitter.com/BNONews)
Russia announced that a truck exploded on the key Kerch bridge that created fire and halted all the operations. This came as a major blow for Russian President Vladimir Putin as the Crimea bridge connects Russia with the peninsula and is a major supply route for the nation. The parts of the Kerch Strait road and rail bridge are partially damaged. The bridge was opened by Putin in 2018. The videos showed that the bridge was badly damaged after the fire broke out. The exact cause for the incident is not clear. The Russian officials revealed that a fuel truck exploded on the bridge. Soon several fuel trucks caught fire and damaged the bridge. Vladimir Putin ordered a government commission to examine the bridge. Russia's Ministry of Emergency Situations and the Ministry of Transport rushed to the spot.
WATCH: The Crimean Bridge, which connects Russia and Crimea, is on fire and has partially collapsed pic.twitter.com/EGaGF0Eb25

— BNO News (@BNONews) October 8, 2022
The damage appears to be severe and the authorities are working hard to bring things to a control. The damage of the train link is not clear but the officials said that the wagons carrying fuel caught fire. From the past few months, hundreds of the Russian military convoys used the bridge to carry the vehicles, fuel and armor. Russia has been fighting with Ukraine and the war reached more than six months. The supply lines for the South Ukraine will be quite tough for the Russian military through the Crimea bridge. Russia also used the bridge for ferry supplies to the forces in Kherson. The bridge is 19 km long.