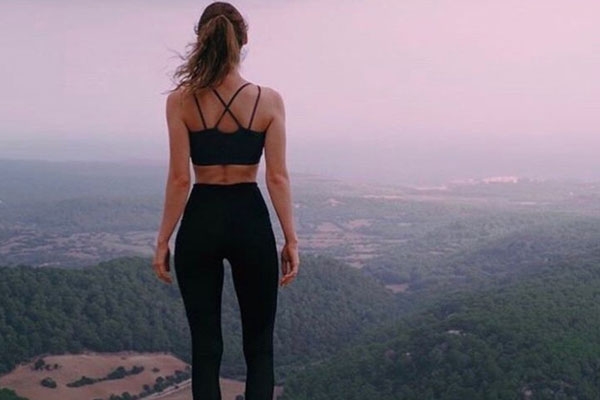 (Image source from: pintrest.com)
Going to the gym is an experience. It is both healthy for us and a good stress buster. As Women, going to the gym can be fun, but there are a few essentials that are important to carry while attending the gym. Other than your gym essentials including gloves, boxing gloves, wristbands and a sports bra, there are more important essentials which you are missing out on that you need to carry. Do not worry, we are here to break down all the essentials you need to carry to the gym to have a great and stress free workout.
Here is a list of important essentials women will need to carry to the gym:
1. Slippers and Sneakers
When you enter the gym, try wearing sandals, slides or flip flops and before working out, change into your workout shoes. After the workout, switch back to sandals. Wearing the same shoes before and after your workout can cause a bad stench near your feet as it generates sweat. Also, it is good to carry an extra pair of socks in case of tears, stench or any other factor. Ankle socks are the recommended type for working out.
2. Earphones/ headphones
Is working out without music even working out? Of course not. Music helps motivate you to workout and enhances the experience. Sometimes, the songs played at the gym may not be to your liking. Carry your own earphones or headphones and make a good workout playlist with bass boosting energetic music. Wireless or Bluetooth earphones and headphones are recommended as they are more comfortable while working out in comparison to earphones or headphones with wires.
3. Water Bottle
This is one of the most important essentials when you go to the gym. The bigger the bottle, the better. Keep yourself hydrated with a water bottle in your bag at all times during your workout. A re-usable water bottle is preferred as it is easy to wash. Say no to plastic. Switch to metal or glass bottles. However during a workout, carry metal water bottles. Water bottles with the sippy feature is preferable and liked by most women during a work out.
4. Pads
It is common for a woman's periods to suddenly start at the gym while you are in the middle of a workout. It is important that you carry pads, tampons or sanitary napkins with you while you go to the gym. It is actually advisable that you carry them everywhere and not just to to the gym. Also, try not to wear any white pants or leggings during a workout when you are nearing your period date.
5. Deodorant
Before and after your workout, it is advisable to use deodorant from spreading any foul smelling odor. Carry a deodorant stick with you. Preferably sport company deodorants such as Nike and Adidas as their deodorants have properties which emit sweat smells and are useful for workout sessions. Even an underarm roll on is a good carry on as a deodorant as most of a human body's sweat is emitted from the armpits.
6. Shower Essentials
If your gym has a shower, take advantage of it. Shower immediately after your workout. The shower essentials you must carry include soap, shampoo, conditioner, face wash, moisturizer, cleanser and a lip balm. It is also advisable that you carry your own towel as it goes best with your skin and Gym towels sometimes just do not get the job done.
7. Face wipes
During a workout, it is possible that you will uncontrollably sweat. Carry a face towel or more preferably, face wipes. They will rejuvenate your face and clean your face of any sweat, dirt or impurities. Face wipes come in multiple flavors including rose, lemon, Aloe Vera etc.
8. Dry Shampoo
If your gym does not have a shower, do not fret. Carry a dry shampoo to use after your workout in case your hair filled with sweat. However, it is not advisable to use a dry shampoo often as it can damage your hair.
9. Rubber Bands and Hairbands
While working out, we all tie our hairs up. But sometimes, from how tightly we do our hair, the rubber band used can lose its elastic properties. Carry two to three rubber bands in your bag. If you have short hair and cant possibly fit the layers into a rubber band, carry a headband, wear it during your workout and remove it after.
10. Towel
A comfy compact microfibre towel is the most recommend towel to carry while going to the gym to wipe your body and face from sweat, dirt and impurities. It is advisable that you carry separate towels for your body and face.
11. A snack
Carrying a healthy snack to the gym is a good practice. Sometimes, it is possible that one's blood level or sugar will drop after an intense work out leading them to collapse. Carry a snack which can range from anything to cut up carrots to protein bars. Make sure you eat the snack after your workout and not before.
12. Extra clothes
After your shower or workout, it is possible that you would not want to wear the same clothes again. Change into something more comfortable. Carry an extra pair of clothes.
Points to remember:
Before going to the gym, make sure you are not allergic to any workout clothing material including cotton or polyester. Also, do not over work out. Work out for 45 minutes to an hour if you are beginner. If you want to work out on the floor, carry your own mats as you will feel more comfortable working out with your own material. Also, the fact that the more you work out the more weight you lose is a myth. Losing weight can depend on a lot of factors. Do not expect to just lose a lot of weight in a day. Working out for 45 minutes to an hour for 5 days a week and eating healthy should do wonders. We wish you the best of luck for your future work out related endeavors.
By Meena Atmakuri